Choosing a Compound Bow: Tips for Beginners
Choosing the right compound bow can be a little daunting. You don't want to get the wrong one for the type of archery you're going to be doing, and there are some key differences between bowhunting and target shooting. We've provided this guide as a primer to take some of the mystery out of compound bow shopping and help you make your selection with a little more confidence.
What is the difference between a recurve bow and a compound bow?
A recurve bow is a traditional bow that is somewhat different than a longbow and very different than a compound bow. Recurve bows have the same basic design as a longbow, but they're typically shorter with the limbs curving away from the archer at the tips. This makes them easier to use than longbows when shooting from horseback or in tight brush.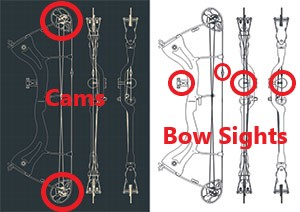 A compound bow is more powerful than a recurve bow due to the pulleys called the "cam system" at the end of the limbs, which make drawing and holding the bowstring at full draw much easier. When held at full draw, the difference between the holding weight (lighter) and draw weight (heavier) is called "let-off". If you have a 40-pound draw weight and a 75% let-off, then at full draw it would be a 10-pound draw. Essentially, this means that the power of the bow is not impacted but holding the string back is much, much easier. This is a key difference between compound bows and recurve bows. Once you have full draw on a compound bow, it's quite easy to maintain that full draw without strain due to the let-off. With a recurve bow, there are no cams to assist, so a 40-pound draw weight will more quickly tire out your arms and back muscles.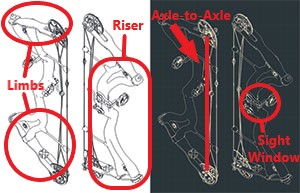 These elements make recurve bows better for quick follow-up shots than compound bows, but they'll have lower overall draw weights and energy, generally speaking. Compound bows also feature sight systems, typically using a front pin sight mounted to the main body of the bow, called a "riser". Within the riser, above the grip, is an area called the sight window, where the pin sight is mounted. The rear sight is called a "peep sight", which is a small aperture tied into the bowstring itself. It isn't common to see recurve bows with sighting systems like this. Instead, if a sight is used (usually in competition), it is mounted in the sight window, but there is no peep sight. Most of the time you'll see recurve archers going "barebow": no sights, stabilizers, or other modern attachments. Barebow is the most primitive type of archery, practiced for the extra challenge presented by forgoing modern technological developments.
What are the best bows for hunting?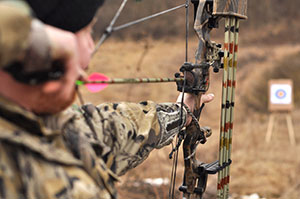 You may run across someone hunting with a recurve bow, but it's far more common to see bowhunters using compound bows due to the ease of use and increase in power. With the additional power, easy let-off, and sights, it's much easier to hunt. This is because you can take the time to line up your shot, and be assured that the arrow will travel with more speed and power, ensuring an ethical kill.
Recurve bowhunters come in two basic types: those who have never used another kind of bow or those who are very skilled at bowhunting and want to increase the challenge. The first type of recurve bowhunter likely grew up with a recurve bow and is most comfortable with them, or simply can't afford a compound bow. The second type of recurve bowhunter has more in common with compound bowhunters: bowhunting in any form presents more challenges than hunting with a firearm that has far more power, range, and margin for error if shot placement is a little off. A bowhunter that converts from a compound bow to a recurve bow is looking to make it even more challenging, using the primitive methods that our forefathers used to put meat on the table.
How do I choose my first bow?
The very first thing to figure out is your dominant eye. Most people's dominant eye corresponds to their dominant hand, right to right and left to left. However, this is not always a given, and plenty of people have a dominant left eye and dominant right hand, or vice versa (up to 33% of people are left-eye dominant, but only about 10% of people are left-handed).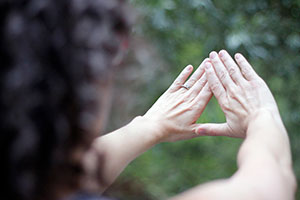 Figuring out your dominant eye is very easy. Put both of your hands together and make a triangle with your thumbs and index fingers (as pictured). Look through this hand-triangle at a distant object, even 10 feet will work well. Focus on the object with both eyes open, then close your right eye. If the object jumps out of view, you're right eye dominant. If the object stays in place, you're left eye dominant. Try it again but close your left eye to double-check.
If the object doesn't jump at all from both eyes open to one eye closed, congratulations! You're one of the very, very few people out there who doesn't have one eye dominant over the other (like ambidextrousness, but for your peepers). You are also one of the few who gets to pick a bow solely based on your dominant hand.
The rest of us will base our bow-handedness on our dominant eye. If you're right-eye dominant, you'll be shooting right-handed, and if you're left-eye dominant, you'll be shooting lefty. Again, this is all about the dominant eye, not the dominant hand. To clear up one other bit of business, if you're shooting righty, then you're holding the bow in your left hand and drawing the bowstring with your right. Lefty-eyed archers will hold the bow in their right hand.
How do you figure out what size bow you need?
Start With Draw Weight
This can vary anywhere in poundage from 10-15lbs for a small child, all the way up to 65-75lbs for a large adult. This is going to depend entirely on the strength of the archer and take into account things that might affect that, like previous surgeries or injuries.
What is the best draw weight for a compound bow?
A 40-pound bow is a good middle-ground for most adults and is usually the minimum draw weight required for bowhunting in most states. If you are buying for bowhunting, be sure to check your local hunting regulations before buying a bow. This is also a good draw weight for target shooting, although some target archers will go for a lower weight to avoid fatigue.
The good news is that compound bows are usually made to have an adjustable draw weight range, so you can take it to an archery shop to have it increased or decreased, just not in huge ranges like 10lbs up to 75lbs.
Determine Draw Length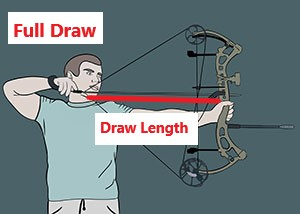 Draw length is generally easier to determine than draw weight and is based on the archer's physical upper-body dimensions. Your approximate draw length is measured by taking your full wingspan (arms outstretched and going from fingertip to fingertip) and dividing that by 2.5. This refers to the distance between the grip and the string when at a full draw.
On a compound bow, the draw length can be adjusted by a qualified professional using specialized equipment like a bow press. Some bows have an adjustable draw length system that doesn't require a bow press, but it's still helpful to consult a professional while you're still a beginner.
Axle-To-Axle Length
This measurement is the distance between the bow's cams. The biggest factors in this measurement are that the shorter ones are more maneuverable in tight quarters like a treestand or hunting blind. Longer ones typically make for longer shots, so can be better for target shooting or wide, open spaces.
What kind of compound bow is best for a beginner?
There really isn't a one-size-fits-all compound bow. You have to take into account the beginner's physical size and strength and their primary intended use for the bow. For kids, many of the beginner's bows on the market will have very low draw weights and short draw lengths to accommodate a smaller frame. Like pretty much anything, a kid will eventually outgrow it and need to go up a size or two. Also, those low draw weights probably won't be legal for hunting, but if you have an aspiring bowhunter, all of the practice with a beginner's model will pay off and you can gradually work them up to a 40-pounder.
About the Author:
Dave P.