How to Zero Your Rifle the Easy Way
Craig Boddington gives new rifle shooters a basic primer on how and why you must zero your rifle. Once you understand these fundamentals you'll be ready for more complex sighting systems.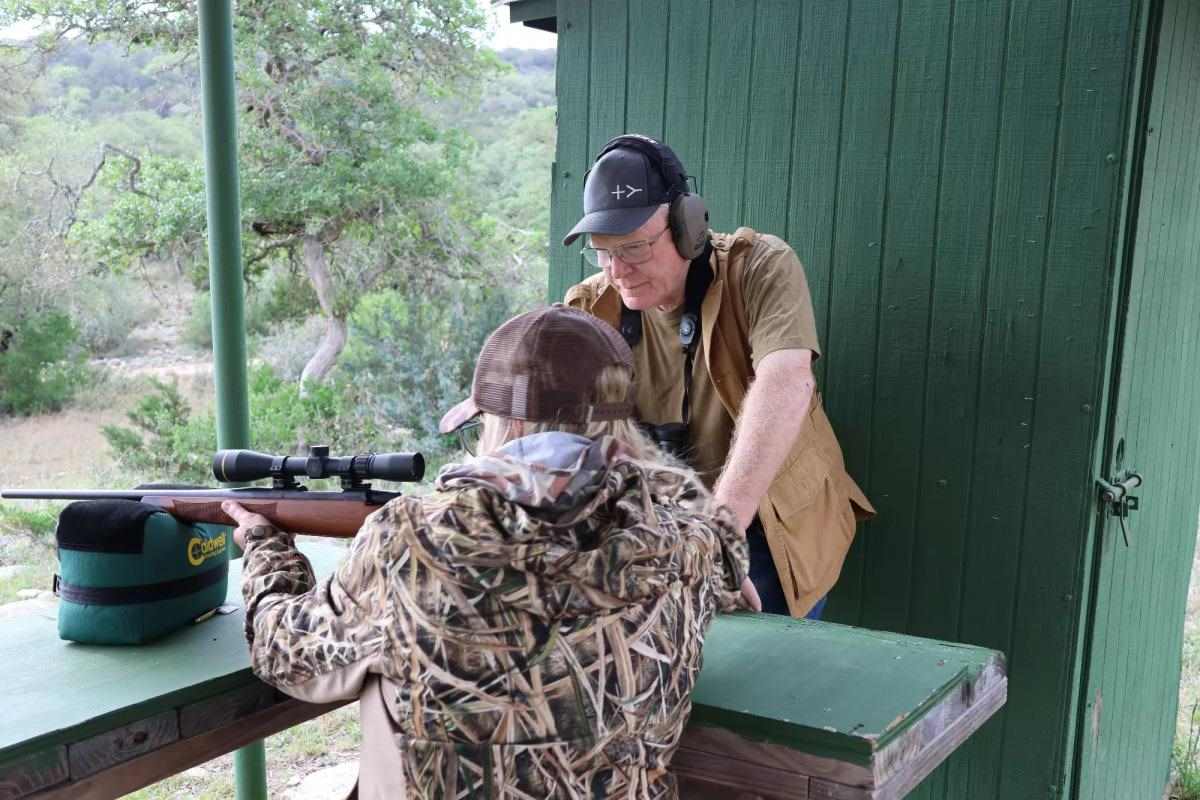 Sight-in session at one of Brittany Boddington's She Hunts skills camps. As in all bench shooting, it starts with a steady position; the idea is to remove as much human element as possible and let the rifle do its work.
August 17, 2023 By Craig Boddington
Achieving the desired sight-in—"zero"—is an essential ritual. Doesn't matter if you're going hunting, ringing steel or punching paper, your rifle and scope must be aligned, and your barrel must steer your bullets where you want them to go. Obvious (duh) that we must carefully zero with a new rifle or scope. However, things change. Screws come loose, bores wear, and loads can change (manufacturers aren't likely to tell you if they revise propellants and charges, change primers, even update bullets). If accuracy doesn't matter to you, no problem. If it does, you need to at least check zero before taking any shot that matters.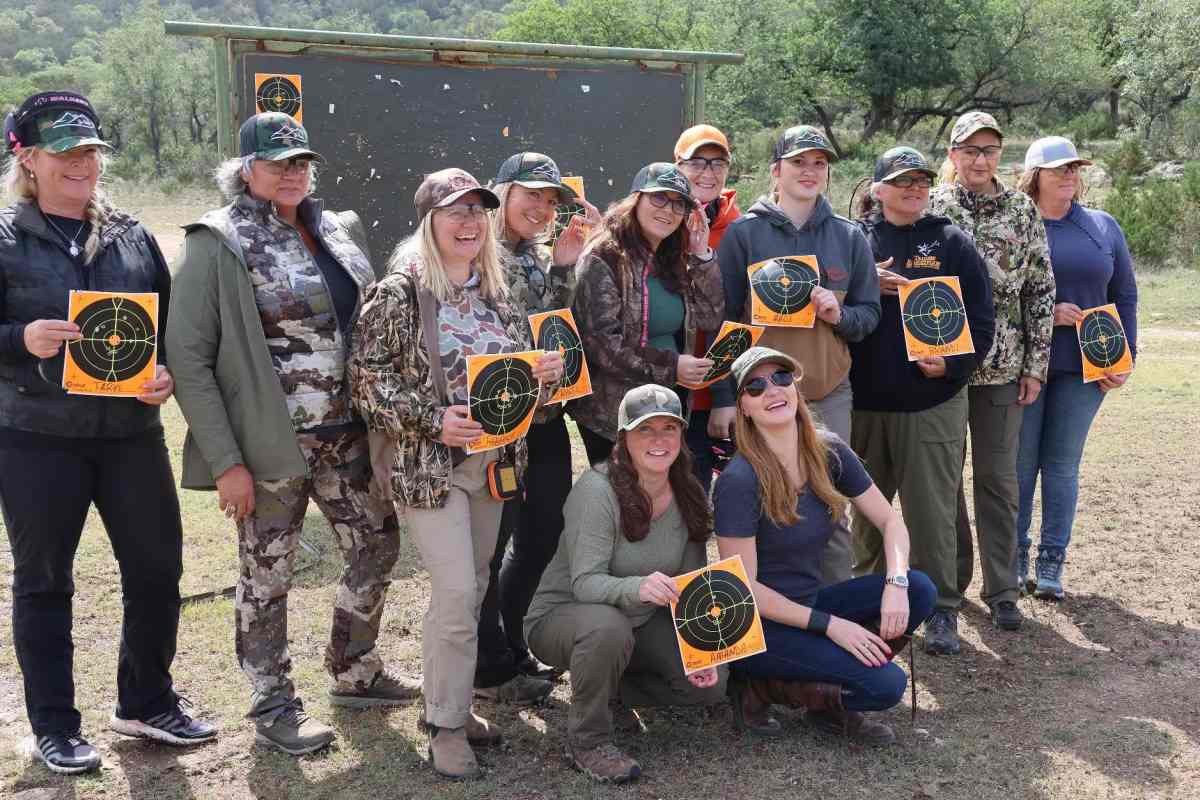 Zeroing completed at one of Brittany Boddington's She Hunts camps. Aside from absolute necessity, a good zero instills confidence. Next, these ladies will do some field position practice; by the end of the course, most will successfully take game animals, several for the first time.
Check All Screws
Let's start at the beginning, assuming a new rifle or you've switched scopes or sights. These days, nobody has ammo to waste, so make sure everything is right. It's frustrating to have trouble getting a rifle on paper, only to discover a loose screw. First step is to check all screws: Action screws, mount and ring screws.
I'm the most non-mechanical person you'll meet. A screwdriver is a complex tool. A loose screw is bad, but so is over-tightening, especially if you really bear down and shear off a screw. To avoid this, I use a torque screwdriver. Unmanly as it is, I check the directions on scope mounts. Most mount manufacturers give you the recommended inch-pounds for their mounts (usually between 20 and 30). Set the screwdriver accordingly. Action screws also need to be snug. However, over-tightening can be worse; you can suck the action down into the stock and impair the bedding relationship. Hand-tight is about right.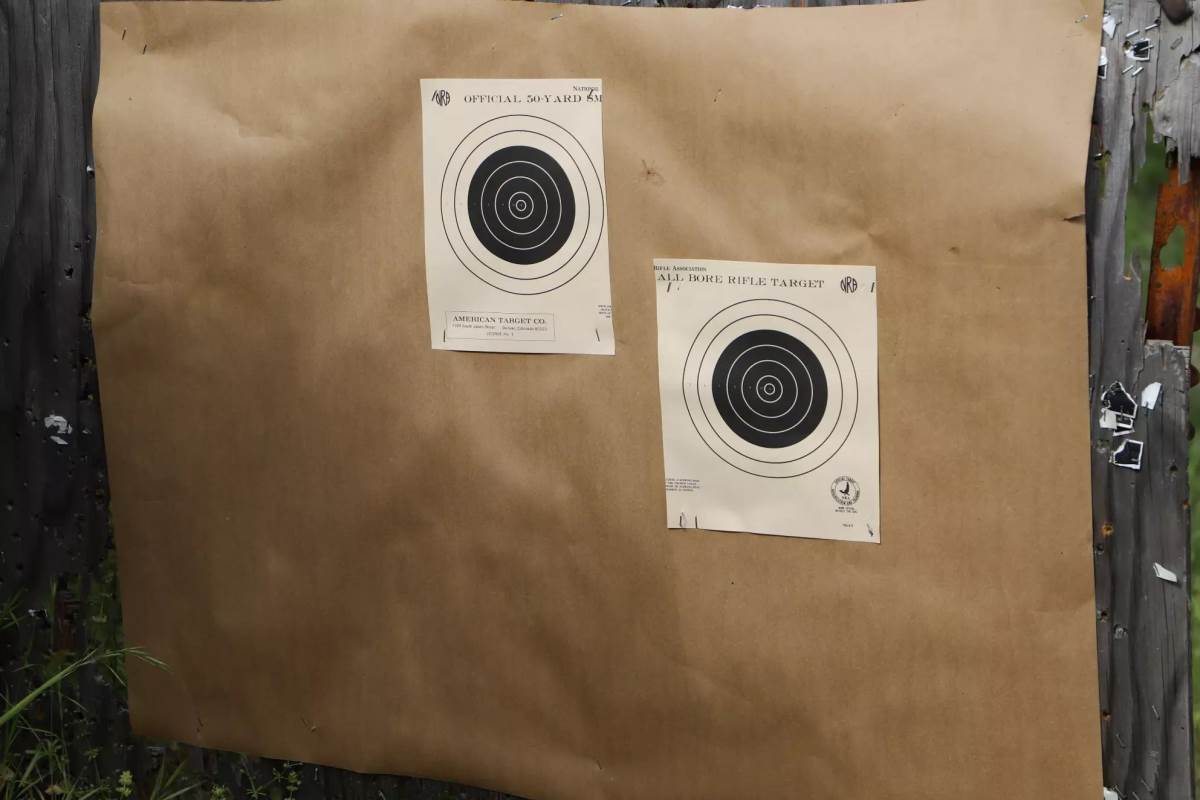 To simplify zeroing and save ammo, start close with a big target. Boddington believes bore-sighting is most accurate with a round bullseye target. With scoped rifles he usually starts at 50 yards, but cuts that in half for iron sights, or rifles that cannot readily be bore-sighted.
Get On Paper
I've read articles on three, even two-shot zeroing. Fine in theory, but it's not a perfect world and I don't believe in Santa Claus. Scopes are not created equal, and few have exactly precise and consistent adjustments (as in, every click moves the strike ¼-inch at 100 yards).
We don't want to waste ammo, but we must get on paper as quickly as possible. My recommendation: Start close with a big target!
Ideally, before the first shot you want your scope/sights and bore as roughly aligned as possible. There are three primary methods: An optical collimator; laser bore-sighter; and good, old-fashioned bore-sighting. Collimators and lasers work okay, but not all of us have access to them. I've seen such imprecise results that, given a choice, I prefer bore-sighting by eye. We're not looking for precision, just a starting point to get on paper.
It's simple. Except: Manual bore-sighting is only practical if you can remove the bolt or open the action and look down the bore. Put up a round target. With the bolt removed, rest the rifle securely, look through the barrel, and visually center the target in the bore. Ensure the rifle is rested securely enough that it remains stable with no touching. Then raise your head and look through the scope (or iron sights). If the scope/sights aren't on the target, use your windage and elevation adjustments to bring the sights onto the target. In bore-sighting, movements will be opposite: Up is down, left is right!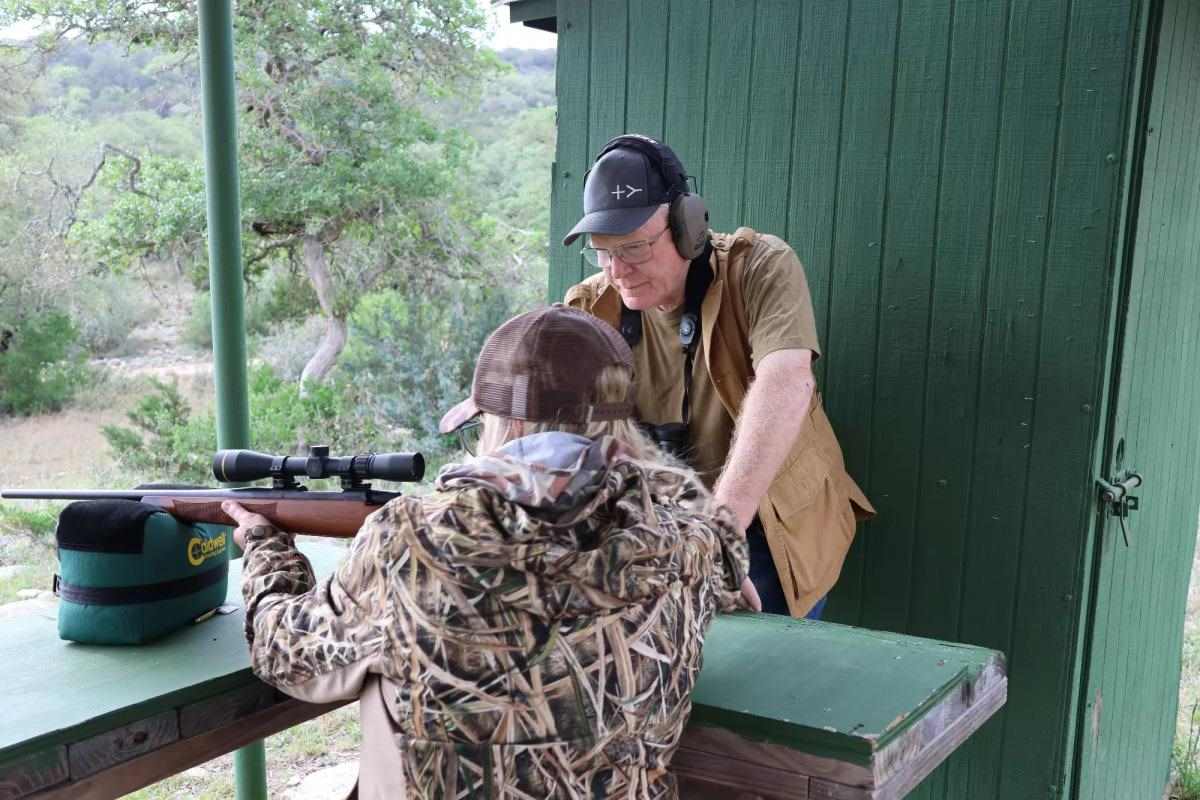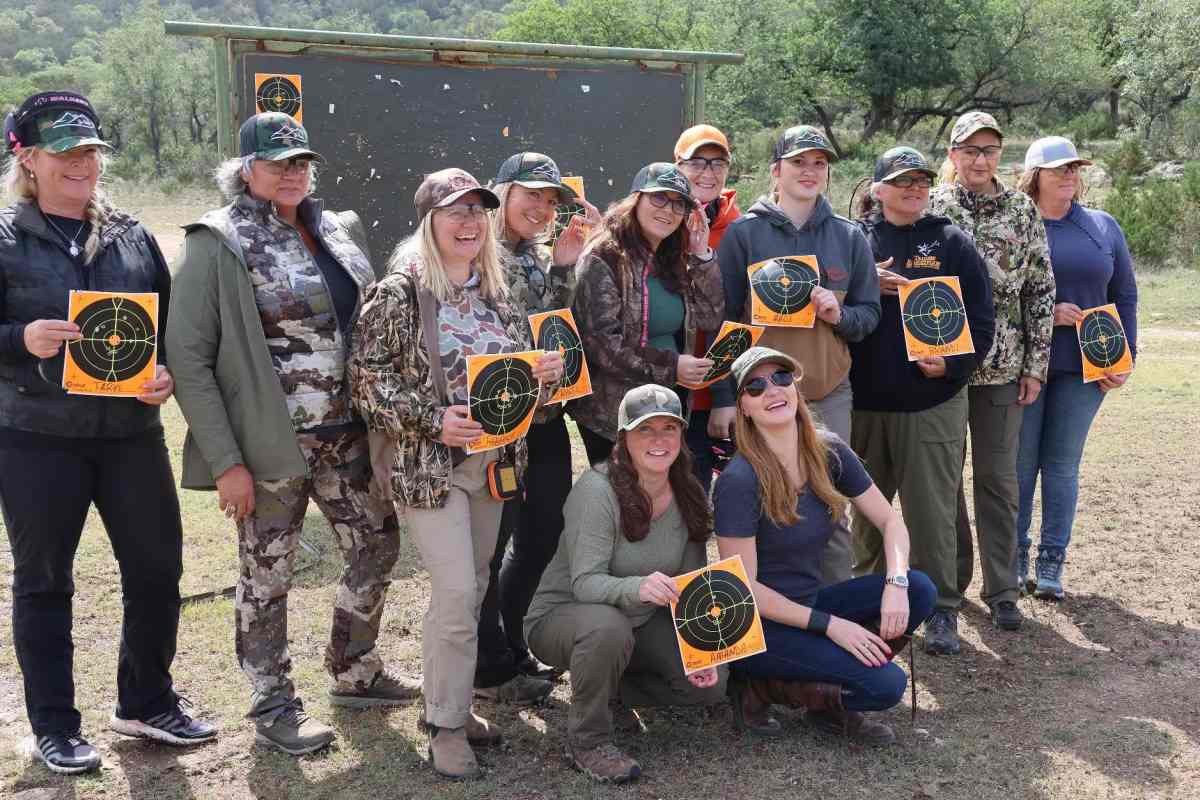 This method is ideal for bolt-actions. It also works for most single-shots and AR-type semi-autos that allow easy bolt removal. With break-open actions and ARs, you may need a tall enough rest so that you can open the action or disengage the lower receiver to see down the barrel. Precision is not required; the point is to get on paper. With a good-sized target and visible, round aiming point, 50 yards should be close enough. However, the larger the caliber (bore diameter), the less precise. With a .22, you can get close; with a .30-caliber or .375, not so good.
Actions that don't allow you to see directly down the barrel are more difficult: Lever and slide-actions, some semiautos. Absent a collimator or laser bore-sighter, don't panic; just use a bigger target and start closer! We keep a roll of butcher paper at the range. For such rifles—and most rifles with iron sights—I cover the target frame with blank paper and put an aiming point somewhere near the center…and I start at 25 yards. Honest, absent the ability to look down the barrel, sometimes even this isn't close enough. No problem, move up to ten yards, get a steady rest (I use sticks for this exercise), and take a shot. Now, finally, you should be on paper.× 
---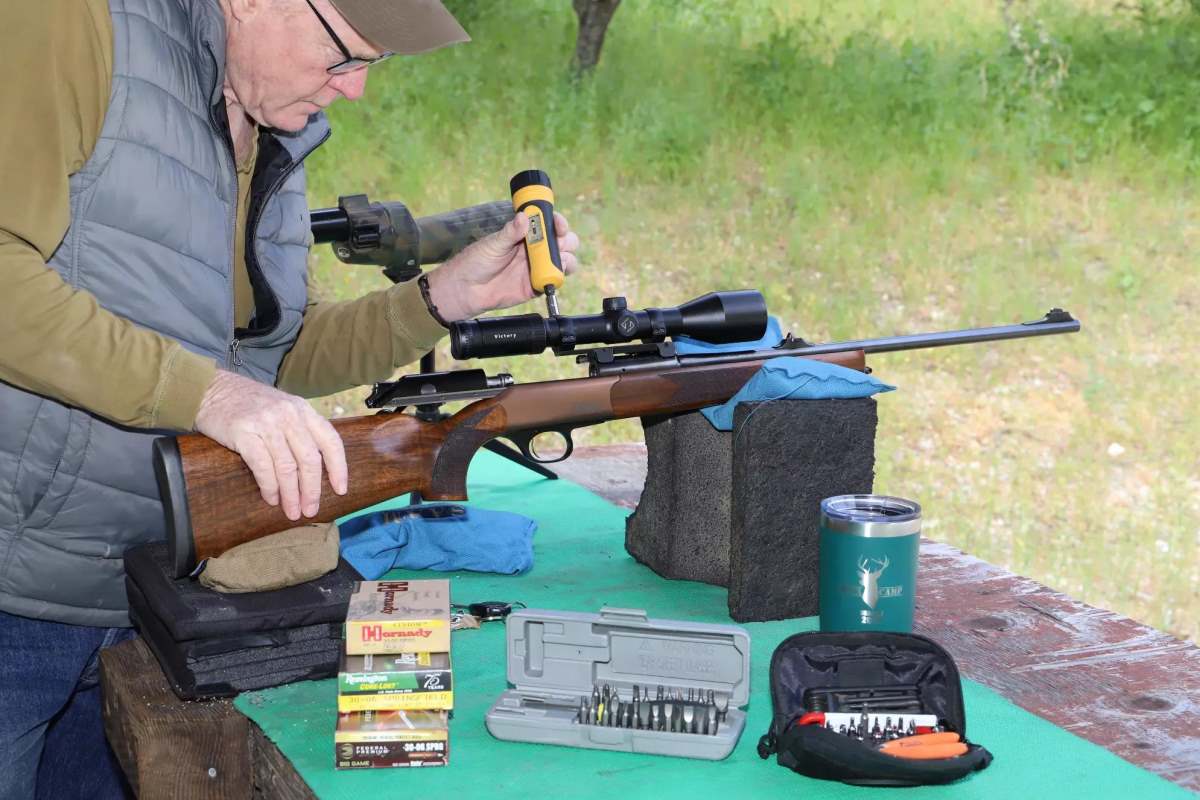 Always check for loose screws before firing a shot. Boddington likes to use a torque screwdriver to avoid overtightening and stripping or breaking screws.
Adjust Your Sights
Once you have a strike—anywhere—it's a simple matter of adjusting your scope or sights. Again, don't expect all adjustments to be perfect, but do the math based on what your scope's adjustments are supposed to be. If your scope's turret says ¼ MOA, that's four clicks to the inch at 100 yards. If you're on paper at 50 yards, then you'll need to double that (eight clicks to the inch). If you're on paper at 25 yards, then you'll need to quadruple the clicks (16 to the inch).
I make the first adjustments at short range (25 or 50). If a scope's adjustments are accurate, this may waste a cartridge. However, I hate to move out to 100 yards and find myself off paper again, so I like to get very close at short range before moving out.
Iron sights are a grab-bag; few iron sights give any index as to how much movement is needed to move the strike a certain distance. So, it's trial and error, but all scopes, red dots, and rear iron sights are the same: You move the sight the direction you wish to move the strike of the bullet! So, when a turret or sight shows a "U" or "H" (common with German optics, meaning hoch for "higher"), you turn in that direction to raise the strike, opposite for lower. For windage, "R" is fairly universal, Right or Rechts to move the strike right, opposite for left. Some iron sights, such as many AR15 battlesights, use the front sight to adjust elevation. If this is the case, then the adjustment is opposite. Regardless of what an arrow on the sight might tell you, physical adjustment of the front sight up moves the strike down, and vice versa.
Provided you can easily remove the bolt and look down the bore, bore-sighting is easy. Securely rest the rifle (5975) and center the target in the bore. Without touching the rifle, raise your head and look through the scope or sights. If the picture isn't the same, adjust your scope or sights until it is.
Distance
There's a myth out there that a "25-yard zero" will be about right at 100 yards. Fairly true with iron sights mounted low on the barrel. With a scope this doesn't account for the distance between line of bore and line of sight through the scope. With flat-shooting cartridges and, especially with today's big scopes that must be mounted higher above, a 25-yard zero will put you several inches high at 100 yards. If I start at 25 yards with a scope, I want a strike at least an inch low before I move to 100 yards.
With iron sights, I usually stop at 50 yards. I can't see the darned things well enough anymore to get meaningful 100-yard accuracy. With red-dots, big-bores, and relatively inaccurate platforms (like double rifles and many older lever actions), I also often stop at 50 yards. With such rifles, I know my effective range is limited. A final zero of maybe an inch high at 50 yards will enable me to do anything I'm likely to do.
Now, with most scoped rifles chambered to versatile or fast cartridges, I go to 100 yards for fine tuning. 50 yards is too close to always pick up the nuances of being a bit high, low or to either side. There is no substitute for achieving final zero at a full 100 yards. Some folks go beyond that and zero at 200. I group at 200 for practice, and to prep for an important hunt, but not for zeroing because: 200 yards introduces more human error, and you start to see wind effects.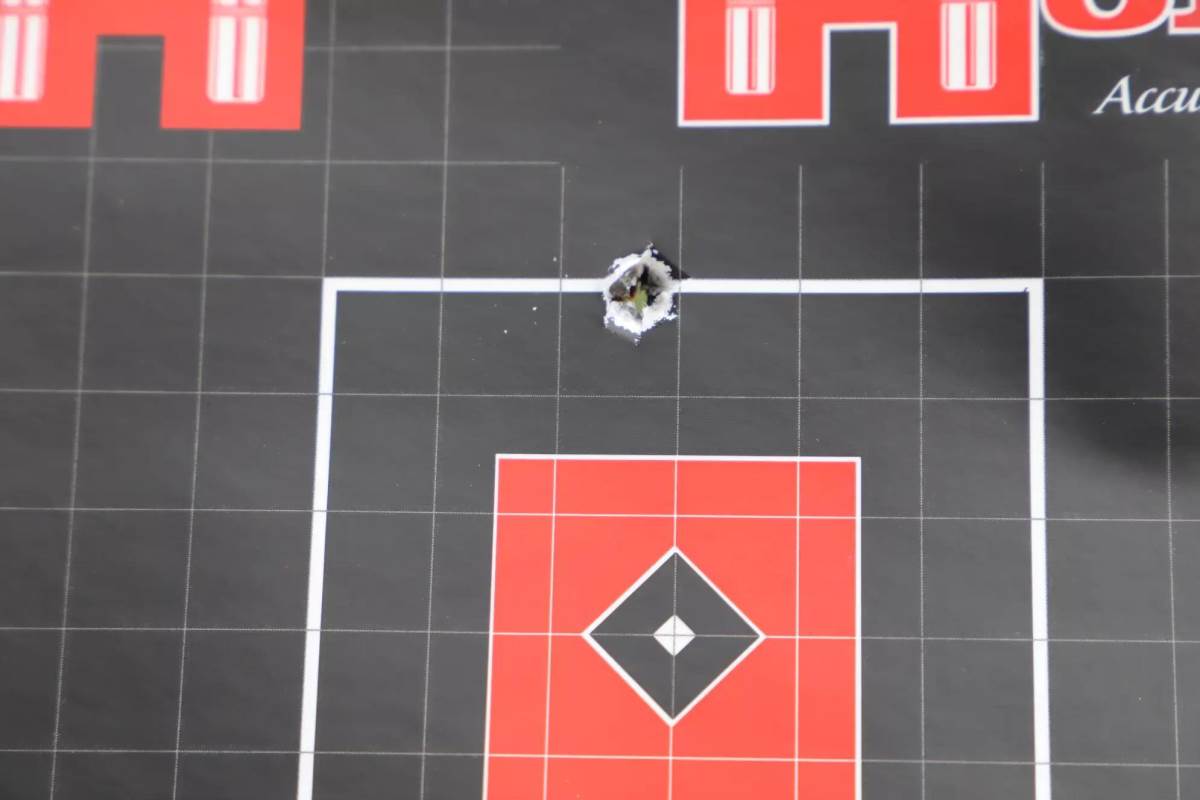 With a scoped, flat-shooting rifle, Boddington likes to zero about 1.5 inches high at 100 yards, on game animals a good zero to 200 yards. This shot at 100 yards was a perfect time to call this sight-in session complete.
Where To Zero?
That's up to you. Being a bit old school, I usually conclude zero a bit high at 100 yards. Jack O'Connor's (very old school) solution was about 2.5 inches high at 100 yards, which took his beloved .270 out to nearly 250 yards without holdover. Another friend insisted on a full 3 inches high at 100, figuring that made him okay on game to 300 yards. I don't like that, because of greater risk of shooting too high at middle distance. With a modern, fast cartridge, I usually leave it 1.5 inches high at 100 yards, which will be close at 200 yards. Beyond that distance, I'm probably going to use a rangefinder, and may well dial.
Turrets that are intended for dialing the range are increasingly popular, and there are numerous options. Many are based on starting with a dead-on 100-yard zero, and that's totally fine. The system I use most is Leupold's Custom Dial System (CDS), with turret calibrated to your load. My CDS turrets assume a 200-yard zero … which puts me right back to starting about 1.5 inches high at 100. However, if you're serious about shooting at longer ranges, it's necessary to go beyond sighting-in … and beyond this discussion. Today's systems (and supporting data and apps) are better than ever, but it's still essential to verify your settings by shooting at actual distances.